Organizing bras and underwear without drawers can be hard when you don't have space. Check out these ideas to organize underwear in a closet for some great solutions.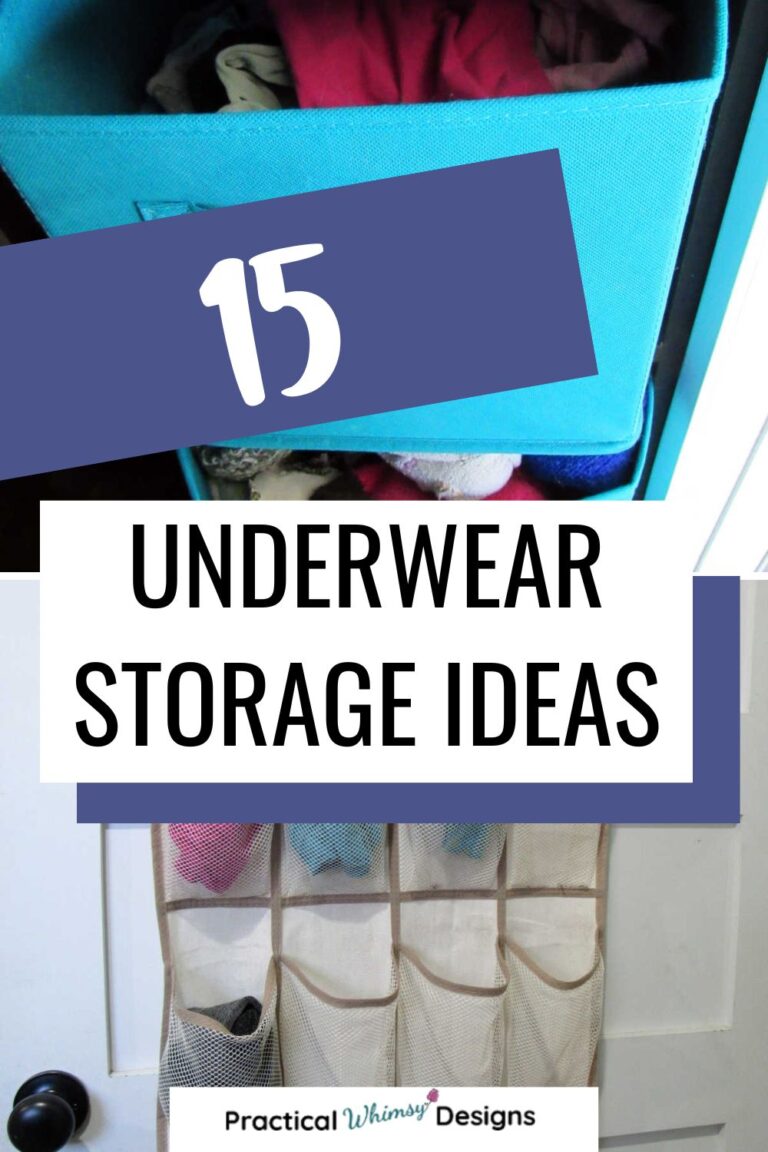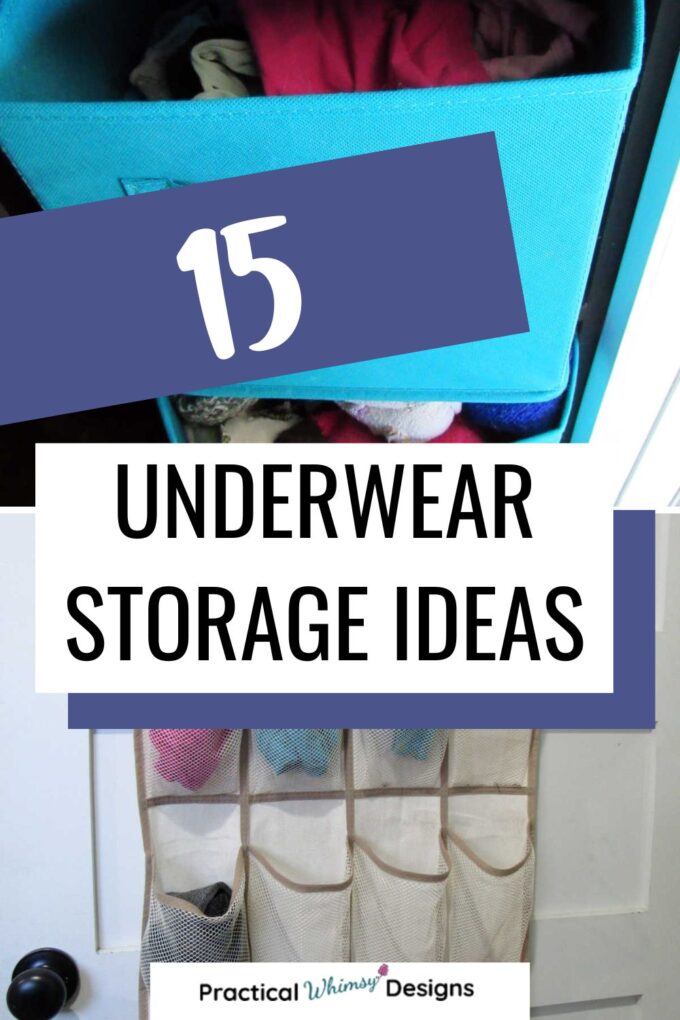 We all dream of our ideal closet.
It's a place where there is ample room for your entire wardrobe and there is enough space to fit all of your favorite clothing items.
However, there is one category of clothing that often gets overlooked when we are designing the plans for our home. It is often not the first priority when we think of making space in our closets and drawers.
Yet, it is something that needs to be considered when we are designing and organizing our closet or drawer space.
That forgotten item? Underwear.
Luckily, there are a lot of different ways to organize and store underwear, no matter what closet space and options you have.
How to Figure Out What Type of Storage You Need for Your Underwear and Bras
The first thing you need to do to figure out a great storage solution for your underwear and bras, is to assess what you have and how much storage you will need.
Make an inventory and sort your underclothes into categories. (This might be a good time to sort through your socks too, as you can use many of these options to store socks as well.
Throw out any item that is warn, faded, or no longer fits.
Decide how much space you need and what type of storage you want based off of the items you have left.
Below are different storage options for your bras and underwear.
Use these ideas to come up with the ideal storage solution to organize underwear in your closet or drawer.
How to Store Bras and Underwear in Drawers
If you are lucky enough to have a walk in closet with drawer space or use a bedroom dresser for storage, there are some great organizers to help you keep your underwear drawer looking nice.
Finding the best way to store your undies will be dependent on your personality. However, here are a few storage options that provide an easy way to keep track of your favorite delicate items.
This post contains some affiliate links for your convenience (which means if you click a link and make a purchase I will earn a small commission at no extra cost to you). Please see my disclaimer page for more information.
Drawer Dividers
If you have a designated underwear and sock drawer, incorporating drawer dividers into your closet drawers is a great way to organize the jumbled mess of under clothes you accumulate.
These dresser organizers keep your small items in neat rows and can fit various sizes of under clothes. The dividers are adjustable and can fit almost any size drawer.

Or you can purchase dividers that are more customizable that you can trim to fit your space.

Make sure to measure the depth, width, and height of your drawers to make the most of your space and to make sure you are ordering the best divider. Using dividers in your drawers can help you separate your under clothes into categories and keep them from sliding all over your drawer.
Honey Comb Drawer Organizers
If you like having an organized underwear drawer, consider purchasing a honey comb drawer organizer.

This organizer is a fun and unique way to add individual storage boxes into your drawers. Once again, you will want to measure your drawer to make sure you purchase the correct organizer for your space. However, the honeycomb is customizable and can be cut or divided to fit in many sizes of drawers.
Fabric Drawer Organizers
Depending on your personality, these fabric drawer organizers might be a great option for your underwear storage. If you like to have a place for everything with easy access to your pairs of underwear, these fun foldable underwear organizers come in many different sizes and storage options.

Keep your pairs of socks, sports bras, and strapless bras in one of these as well for an easy storage solution.
Make sure to purchase an organizer that fits in your drawers to utilize as much space as possible. Then fill the small slots with your pairs of underwear.
If your drawer is an odd size, find smaller organizers to fill up the entire drawer. Or create a designated area on the side of the organizer for under clothes that are too bulky or delicate to be jammed inside the storage compartments.
Utensil Organizers
Depending on the types of bras you purchase, utensil organizers work as diy hacks for storage. You can also roll your underwear and store it in a utensil organizer.
The silverware slots act as a divider. If you find one tall enough, they are an effective way to keep each bra in its own compartment, allowing you to easily keep track of your bras.
This can be a cheaper option if you have an extra silverware tray laying around.
How to Store Underwear Without a Dresser
Figuring out how to organize socks and underwear in your closet without a dresser can be a challenge. If you have a small closet or nowhere to put a traditional dresser in your room, try one of these ideas to add extra storage.
These organizer are perfect for rooms and closets with less space and will give you more options for storing your underwear and bras.
When you are organizing in a tight area, utilizing walls, shelves, and the floor can sometimes create that much needed extra storage space for the clothing items you own.
Sliding Wall Organizers
If your closet is lacking drawer space, but has room to hang something on the wall, check out these sliding wall organizers.

They are the perfect solution for small spaces and will help you maintain an organized closet, while supplying that extra storage space for your smaller clothing items.
These would work perfect for sock storage as well.
The great part about this type of closet organizer is that it doesn't use any shelf or dresser space. It works well for a variety of small clothing items. Plus you can keep expanding your storage by utilizing all of your wall space.
Plastic Storage Dressers/ Desktop Drawers
If your closet doesn't have a dresser, why not buy one?
Small plastic storage dressers can be an excellent option for storing your underwear and everyday bras.
Purchase a clear plastic dresser so you can easily see what is in each drawer or find one that is opaque for more discreet storage.

A smaller clear plastic organizer can be the perfect solution for storing underwear on a closet shelf.

Fabric Storage Dresser
If you are looking for something that comes in multiple colors and won't break the bank, check out this fabric dresser. It would be perfect for underwear storage.

Plus, it offers a hard top and frame to keep your storage sturdier.
How to Organize Underwear without a Drawer
Not everyone is blessed with large closets or ample storage. If you have limited space for storing your underwear, it can feel discouraging to find a great solution.
The good news is that you can still find underwear storage that doesn't require any type of dresser or purchased drawer space.
Fabric Bins
In my experience, this is one of the easiest solutions and it is how we utilized under used closet storage space. We built a cubby shelf in our primary closet design large enough to fit fabric boxes. We can access our items easily and it adds a pop of color into our closet design.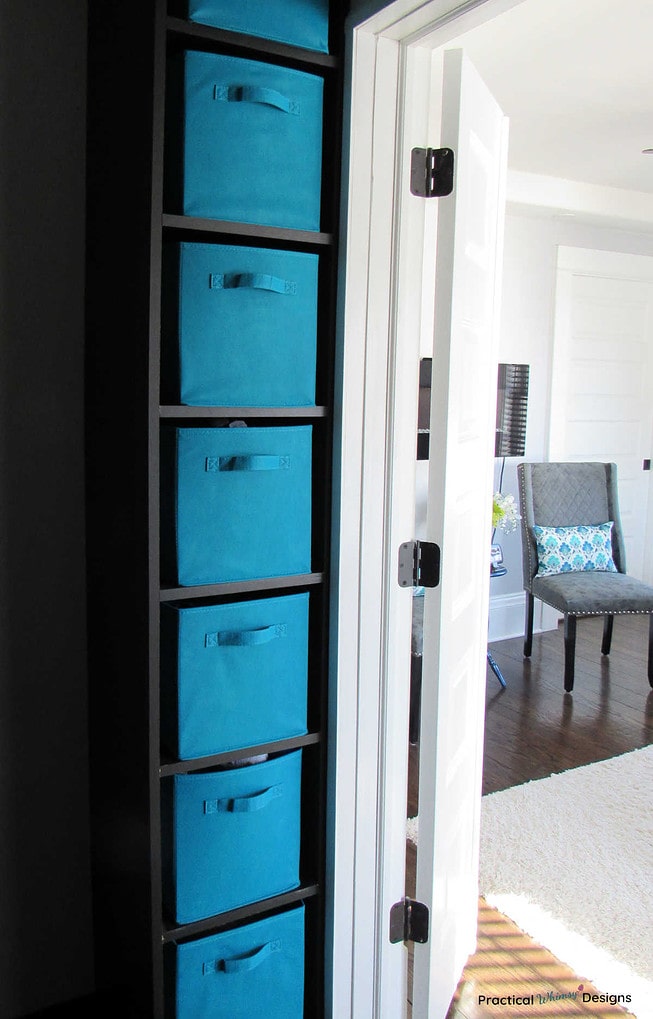 The best part about this storage solution is that it is one of the easiest methods of storing underwear in your closet if you don't have a drawer. All it requires is an open shelf or cubby.
Depending on your personality, this might be the perfect solution for you.
If you aren't concerned about storing each item individually or needing all of your underwear divided into their own separate squares, then tossing fabric organizers on your closet shelves might be right up your alley.

This solution can even utilize floor space if needed, though it may get more dust inside the box.
Using fabric storage cubes inside of deep dresser drawers can also create a simple division between your undies and bras or socks and help you utilize the space better.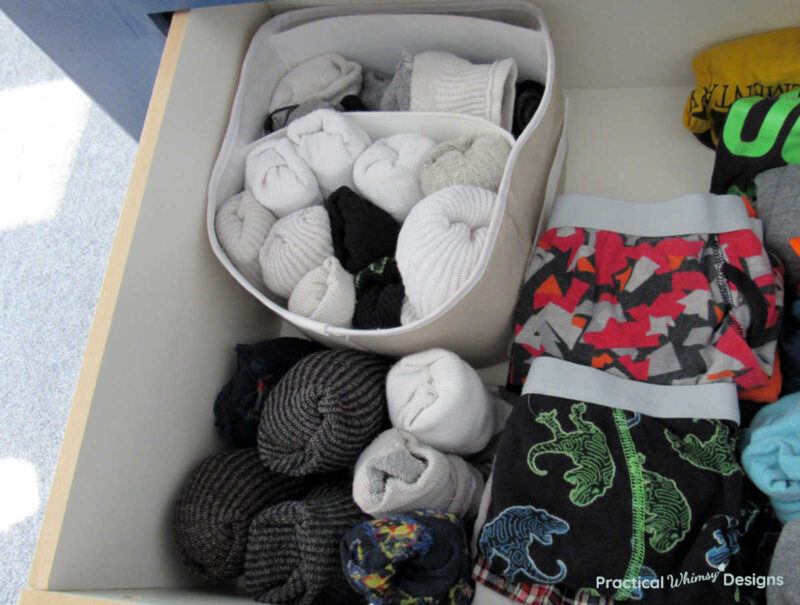 This is a good option for any flat surface in your closet. Plus, you can purchase them in many bright, fun patterns and different colors to add a little life and color into your closet design.
And, as a bonus, you can repair fabric boxes if they need a face lift.
Wicker Baskets
If you are looking for a prettier, but slightly more expensive storage option for the top of a shelf, a wicker basket is another great place to store under clothes. You can fit a lot of items in each basket and they are a discreet option for your clothing storage needs.
The baskets below also come with a lid to keep dust out.

Plastic Storage Bins
A plastic storage box is another option for storing your underwear on open shelves. If you like the idea of shelf storage and want to be able to see inside of your bin, clear plastic storage bins are a great option.

Many plastic storage containers can be purchased with lids. This can be a nice option for keeping dust out of your clothing. It also allows this type of storage to be stacked in your closet to add a little bit more shelf space.
These also act as another option for floor storage.
Under Shelf Organizer
If you have room under a shelf in your closet, you can create more storage by using an under shelf organizer.
If you are looking for closet underwear storage options, add more room with this undermount option.

Hanging Underwear Organizer
If you have extra room in your closet to hang clothes, you can organize your underwear and bras with a hanging organizer.

Simply, hang the organizer on your closet rod and make use of the extra vertical space.
Hanging Shoe Organizer
If you have neither shelves or drawers, a hanging shoe organizer can be a good idea for underwear storage. This type of storage is a great way to use the vertical space in your closet.
Hang the vertical shoe racks off of your closet rod or on the inside of your closet door for an easy way to access your bras and underwear.

If you purchase ones with mesh pockets, you can easily see what you have in each slot.
Options for Storing Underwear in Your Closet or Dresser
As you can see, there are plenty of options available for storing your underwear in your closet, with or without a dresser.
Finding creative ways to utilize space in a small room is a must when it comes to storage options. Using as much storage space as you can, will add plenty of space for storing your bras, socks, and underwear.
Though it might not be the top priority in your closet design, adding plenty of room for your smaller items in your closet is still possible with these various storage options.
Finding the best options for you will depend a lot on the space you have. Also, what types of underwear you need to store, and what type of personality you have.
Hopefully, this guide will help you find the perfect organizer for your needs.
Want to remember these storage ideas? Save them to your favorite organizing board on Pinterest.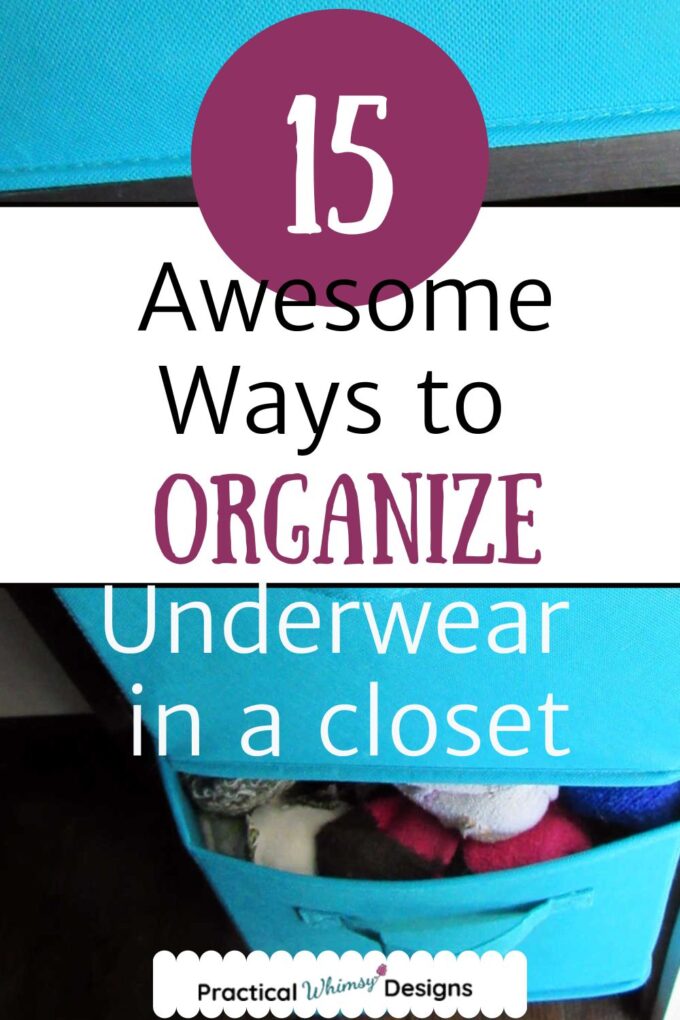 Want More Great Ideas? You Might Like These..