Take a look at our master closet reveal and discover a few tips to keep in mind when designing your own master closet.
Struggling with finding the perfect paint color for your home? My design guides are available for free to my newsletter subscribers. Grab my Free Paint Guide and FINALLY pick a wall color that you love!
It's not as grand as some.
In fact, it might be considered kind of small for a walk-in master closet. But I am still pretty pumped to show it to you.
You see, we finished the master bedroom and the master bathroom a while ago, but I failed to show you one of the big projects we completed in our master bedroom suite.
The Master Closet!
Some Background Information
For those of you who are unfamiliar with our master bedroom project, this is what our master closet looked like when we purchased our fixer upper home.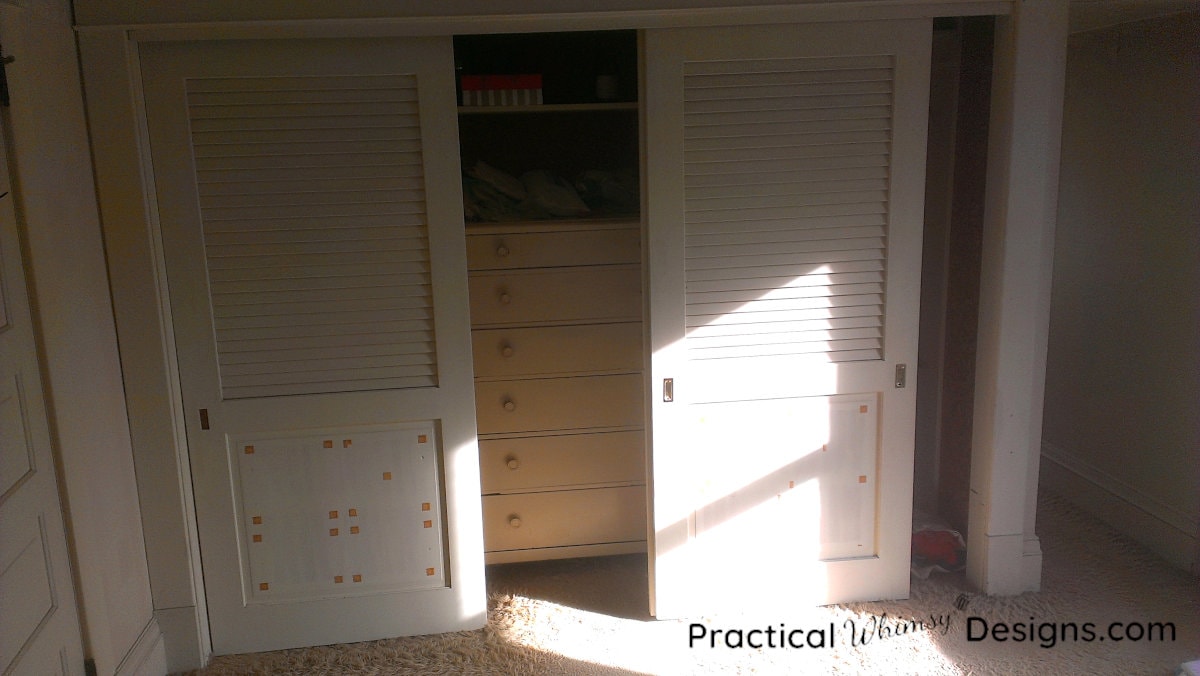 Now, there was enough room in it to function as a closet and we might have just left it as is, but there was one big problem.
Our master bathroom was tiny. As in, 'can-barely-move-around-the-toilet-to-get-to-the-sink' tiny. We decided to add this closet to our master bathroom. (If you want to see the details on that project you can check out this post.)
Now we had no closet. 😕
Luckily, there was a small office next to our bedroom and we turned half of it into our master closet and the other will hopefully be my some day craft room!
Ok.
Now that we are all caught up, here is what we did with our master closet.
Master Closet Projects
My husband had to create a doorway from the master bedroom into the new closet space. He also framed up a wall in the old office to divide it and create our new master closet.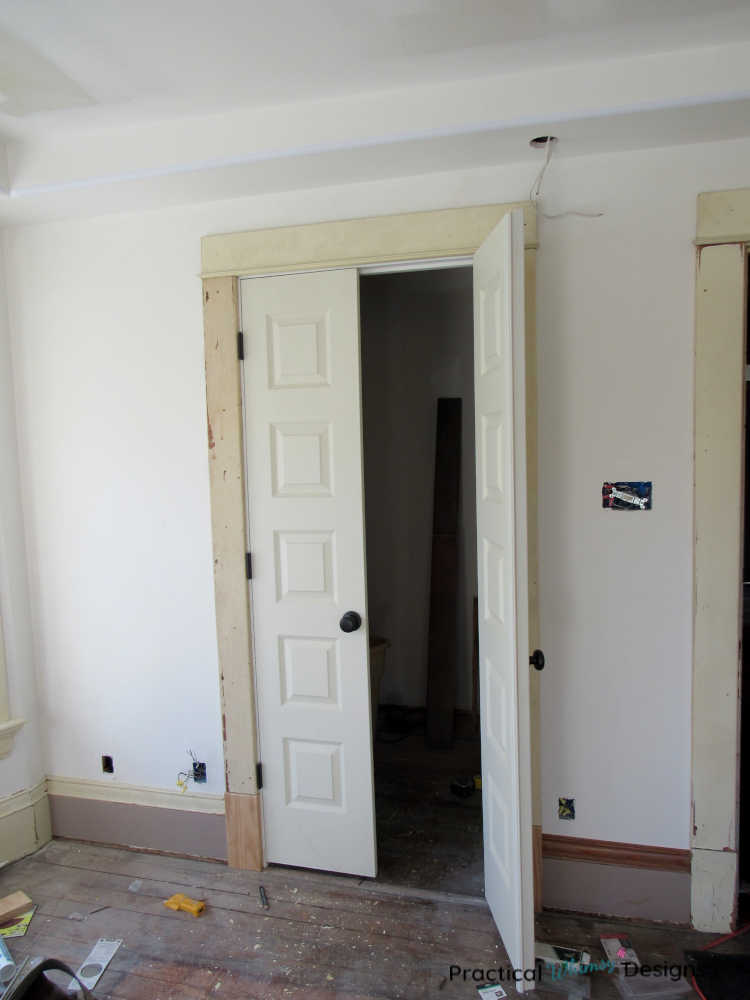 After the closet was framed, drywalled, and muded, I painted the walls.
We always try to do things as economically as possible, so instead of buying drawers for the closet, my husband took our old dresser and built it into the closet. He cut the bottom decorative trim a little to keep the dresser square and fit it against the wall.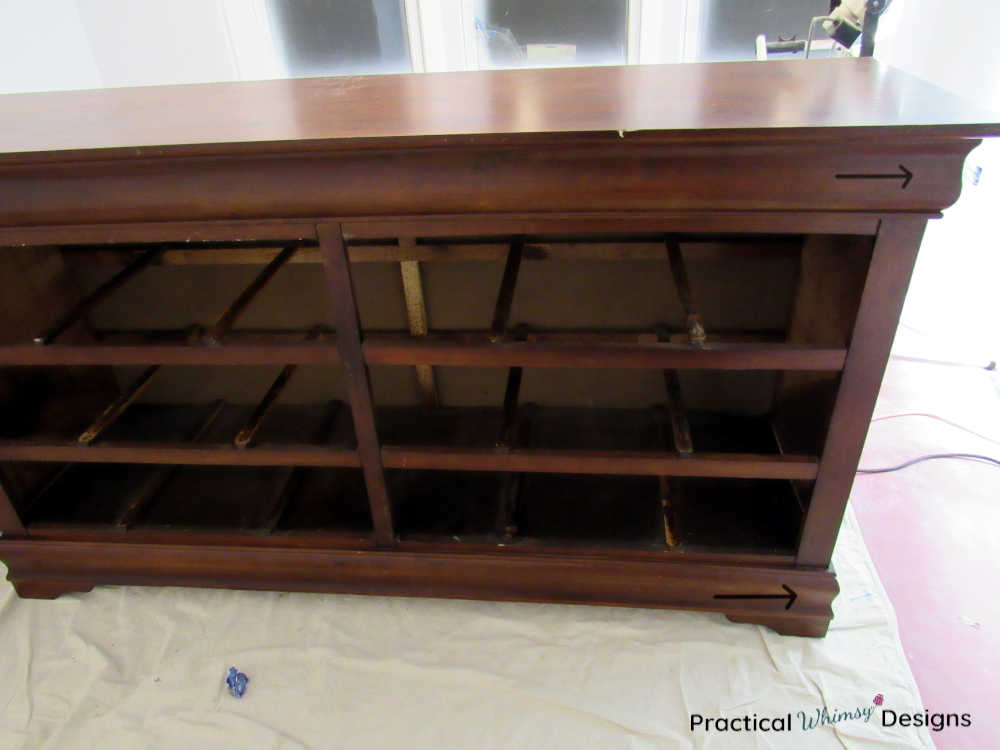 Then he built the closet system around the dresser.
Tip: If you are designing a master closet, don't forget to look at things you already own. You might just be able to incorporate your dressers or shelving into your closet design and save some money.
We took this dresser from our old cherry wood bedroom set and painted it the same color as the sleigh bed we converted for our master bedroom. Since we couldn't use a paint sprayer on this dresser because it would make a big mess inside, I painted it with a brush. If you are interested in painting furniture, check out this tutorial I made to hand paint furniture without leaving brush strokes on it.
Master Closet Reveal
And here is the result of our master closet transformation.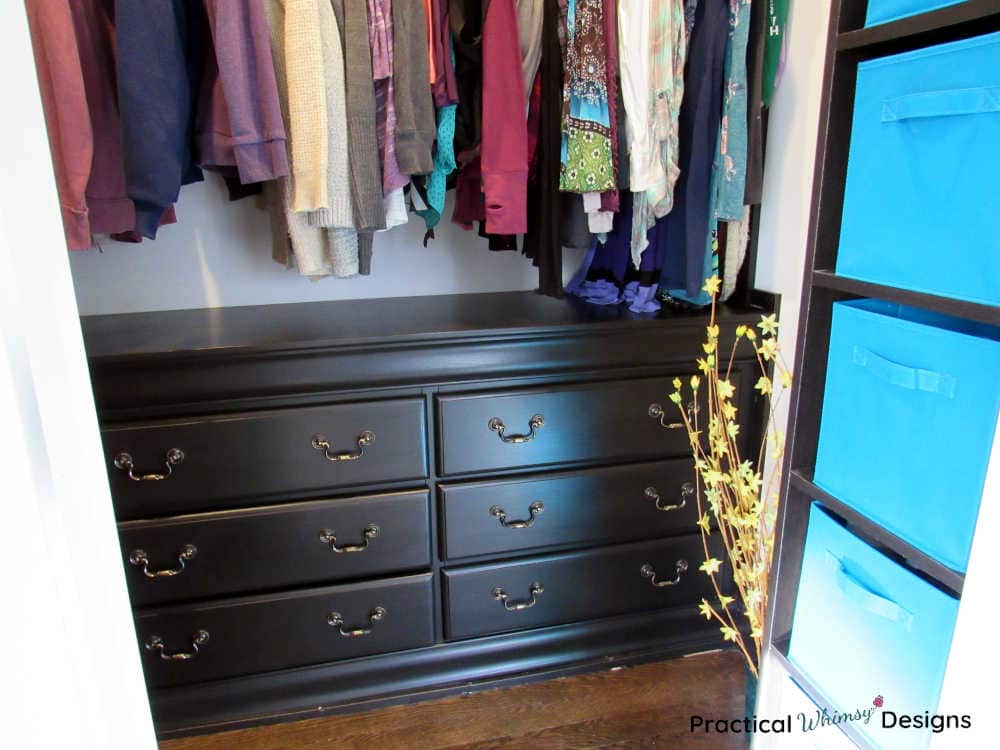 There were a few elements that we wanted when we were designing our master closet. We wanted a small area that had floor to ceiling hanging space for dresses. (Ok. I wanted the long hanging space for dresses.)
We also wanted a separate space for each of us to hang our clothes and plenty of drawer storage.
Tip: If you have the opportunity to design your own closet storage, make sure you think about the organizational items that are the most important to you. Build your design around those items.
This post contains some affiliate links for your convenience (which means if you click a link and make a purchase I will earn a small commission at no extra cost to you). Please see my disclaimer page for more information.
I love the teal boxes we found for our storage cubby. They bring the pop of color into our closet and match the teal elements in our master bedroom and bathroom.
Tip: Using your storage to tie in color elements can make your space feel like it all fits together. Pay attention to all of the colors you use in your room, even if it is in your closet.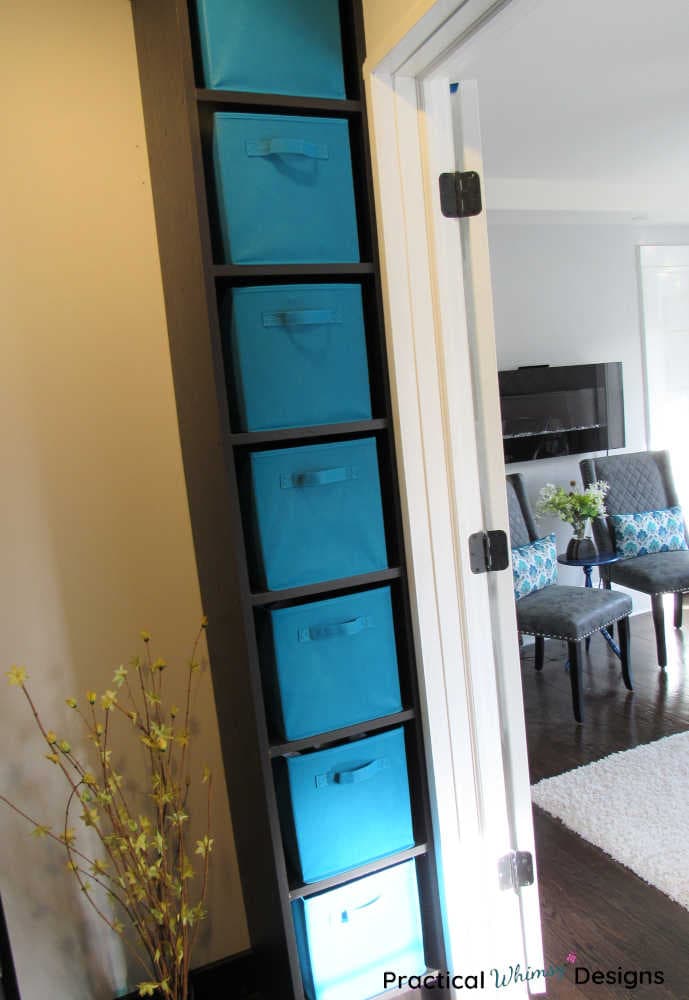 The Details of Our Master Closet
Here are some of the specifics of our master closet reveal.
Paint Color: We honestly left it primed. Since it is mostly covered by clothes, I wasn't too concerned with wear and tear on the walls. Plus, I wanted the bright white color to lighten up the closet. I might paint the walls……some day……when I have no more projects to do…..ok….that might be never. Lol.
Storage:
-Built in dresser we reused from our old bedroom furniture set (We used Pittsburgh Paints & Stains Fast Dry (The Color we used= Pittsburgh Black Magic). See how I painted the dresser here.
Black Plastic Hangers (We were considering these wooden hangers, but decided to save the money since we are the only ones looking in this closet most of the time. We did purchase all matching hangers to give our closet a more organized look.)
Shelves, brackets, bars, etc. all purchased from Menards and installed by my husband.
What Do You Think?
We have tried to make this whole master suite feel like one cohesive space without being identical.
What do you think? Did we succeed?
Want to remember this idea for later? Save it to your favorite DIY Pinterest board.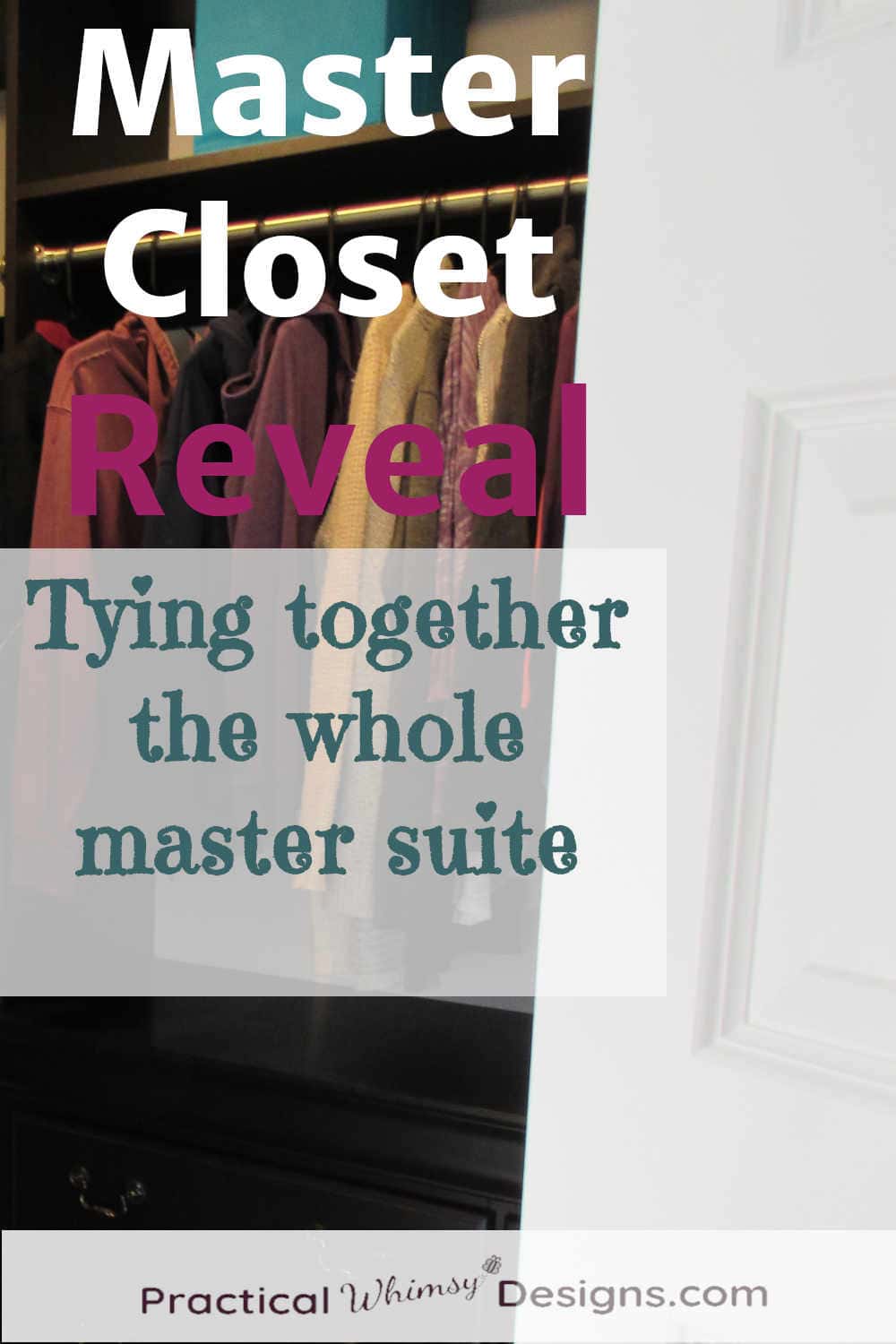 Want More Great Ideas? You Might Like These..