Is it ok to decorate with faux plants? Take a look at these tips for decorating with artificial flowers in your home.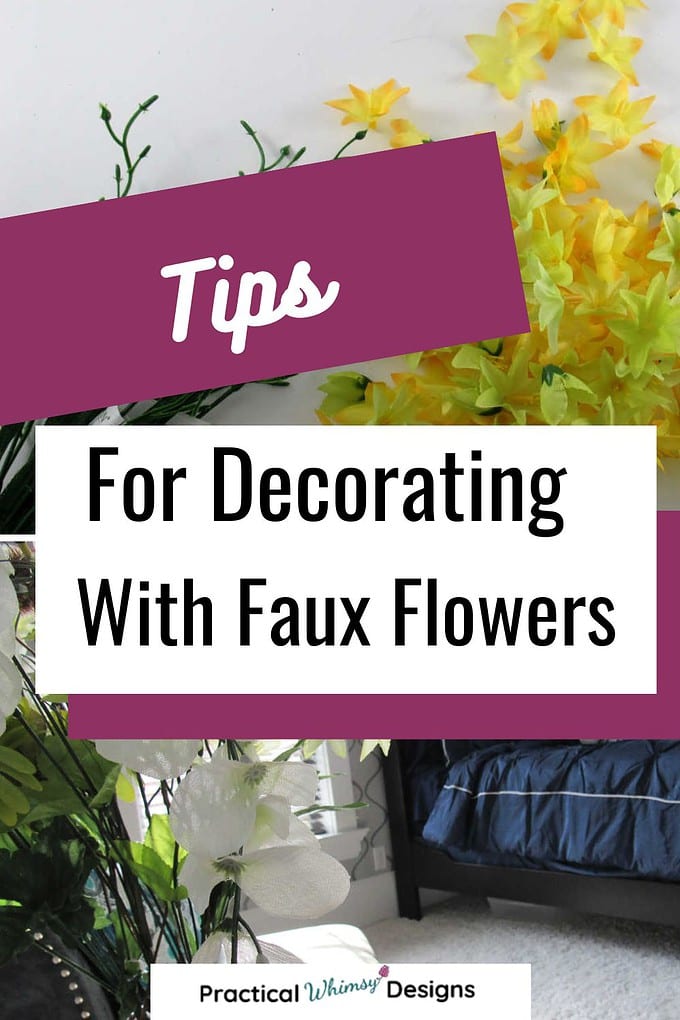 There is something about flowers and greenery in your home that makes it feel more cozy and fresh.
They can brighten up your room or highlight a certain time of year. They also create that pop of color you need in your space.
However, artificial flower arrangements often have the reputation for seeming like a dated way to decorate your home.
Yet, there are some very elegant arrangements that can actually enhance your living space. And it can be a very cost effective way to add a little bit of elegance and color to your room, especially if you do not have a green thumb.
If you are struggling to figure out the best way to use fake flowers in your home decor, or are undecided about the use of artificial greenery at all in your home, exploring the answers to these questions might help.
Can You Use Fake Flowers for Home Decor?
The answer is, yes!
Fake flowers are a great idea for adding color to your home.
They are also a much easier way to add greenery to a room and are less messy than live plants. You can place them in so many locations including, on a coffee table, dining table, fireplace mantel, or even your Christmas tree.
Finding a great place for your plants isn't dependent on the kind of lighting you have in your home. Even the darkest corner of your living room can be given a pop of color with artificial greenery.
How Do You Make Fake Flowers Look Good?
The first step to adding beautiful flower arrangements to your home, is finding fake plants and flowers that look real.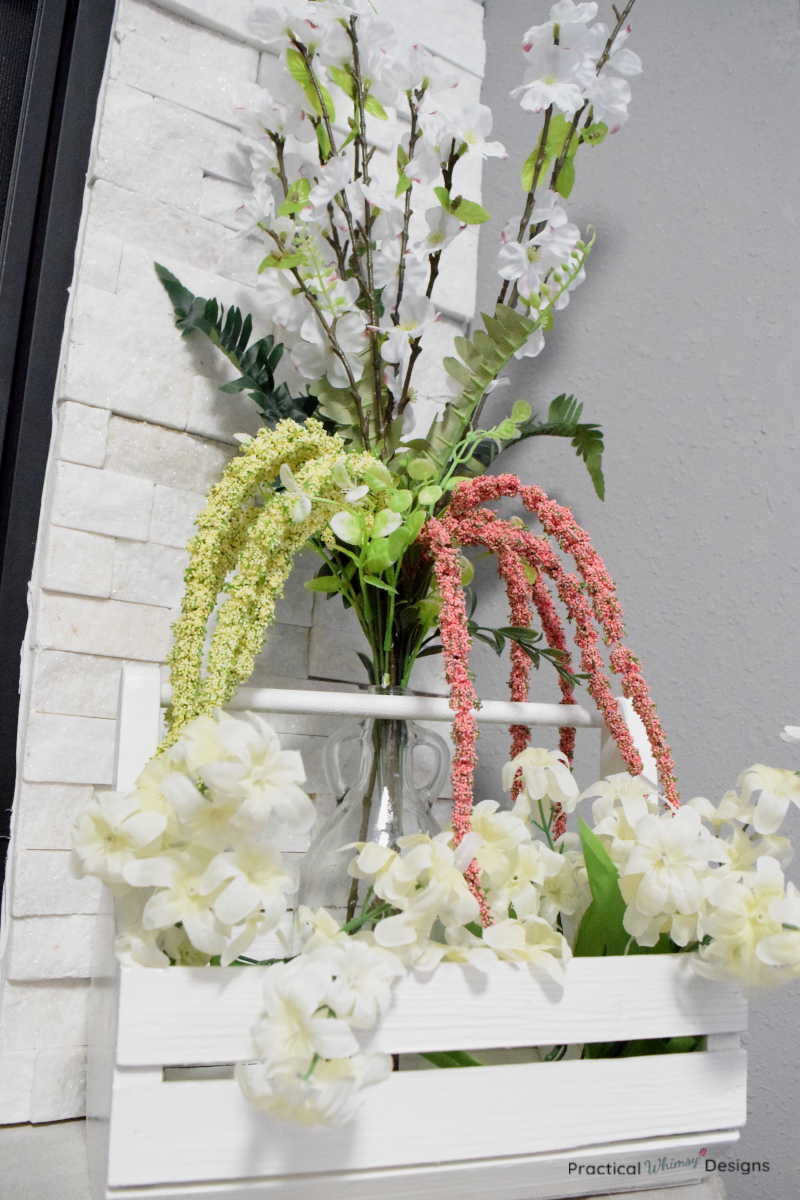 You can find great options for faux blossoms or a silk plant at your local craft store or online. Some of these arrangements are a little bit of an investment initially, but are cheaper than purchasing fresh cut flowers continually and they will last a lot longer.
If you are looking for budget options for faux florals, my favorite place to go shopping is the Dollar Tree. They carry a wide selection of faux blooms, floral foam, clear glass vases, and other material for creating faux flower arrangements.
You do have to pick through the flower selection to find the best artificial flowers for your arrangements as some of them look more realistic than others.
For example, these cherry blossoms and foam artificial flower stems were added to this vintage tablescape for my spring decor and were a beautiful addition to the display. The key was to add floral stems of different sizes with different heights to create interest. All of these floral stems were purchased at the dollar store.
It can be so much fun to play around with faux plants as part of your decorating repertoire. Add them to different areas of your home to see how they best fit.
How to Decorate Your House with Faux Flowers or Artificial Plants
There are so many ways to decorate your home with fake flowers and plants.
Adding fake florals and plants to your home decor is a matter of personal preference.
How you decorate will depend a lot on your personality. A good rule of thumb is to imagine how you would add plants into your home if light and care were not an issue.
Whether you enjoy a few plants sprinkled around your dining room and home, or you would add flowers to every table and shelf if you could, decorating is about adding your personality into your home in a pleasing way.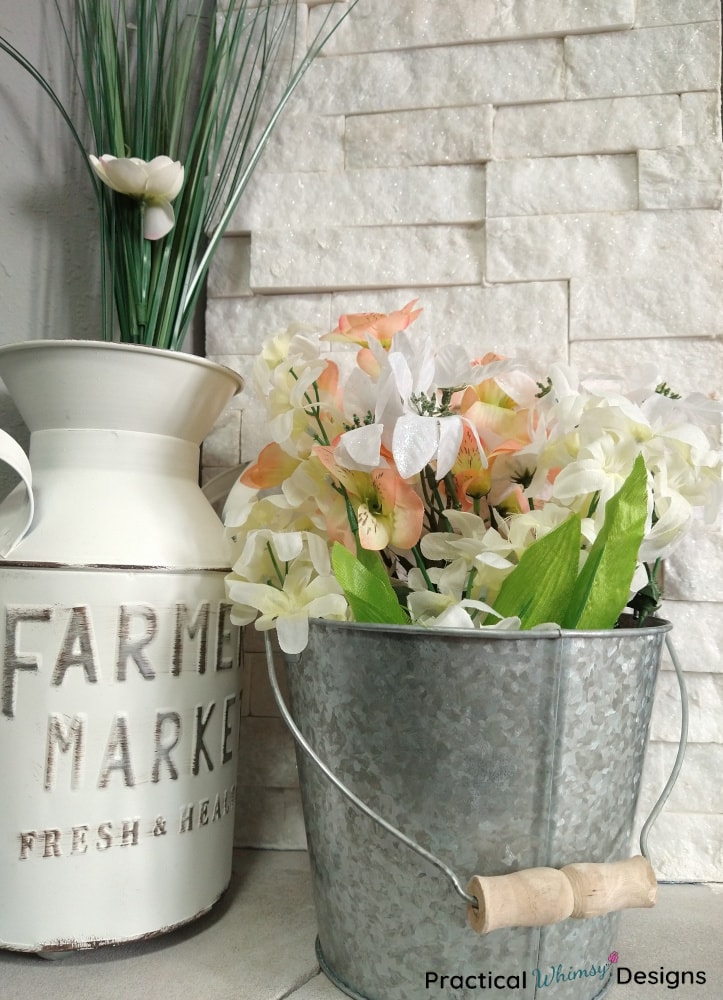 If you like a few tastefully displayed plants or enjoy changing flowers to match each season, there are quite a few varieties of faux plants available, perfect for any decorating style.
Below are several ways I have used faux flowers in my own home decorating.
Decorating with Spring Flowers
Of course, spring is the most common time to decorate with faux flowers. Adding faux tulips to your dining room table is a sure sign that spring is almost here. I enjoy trying to find new arrangements for my flowers each spring. It gives me a creative outlet and changes up the look of my room each year.
Some examples of faux spring flowers in my home are my green, brown, and white spring themed decor and my spring mantel decorating.
Taller arrangements can be expensive. Make your own floral centerpiece with this simple branch centerpiece tutorial.
Decorating with Fall Flowers
Use flowers to sprinkle in amidst pumpkins and gourds in your fall arrangements.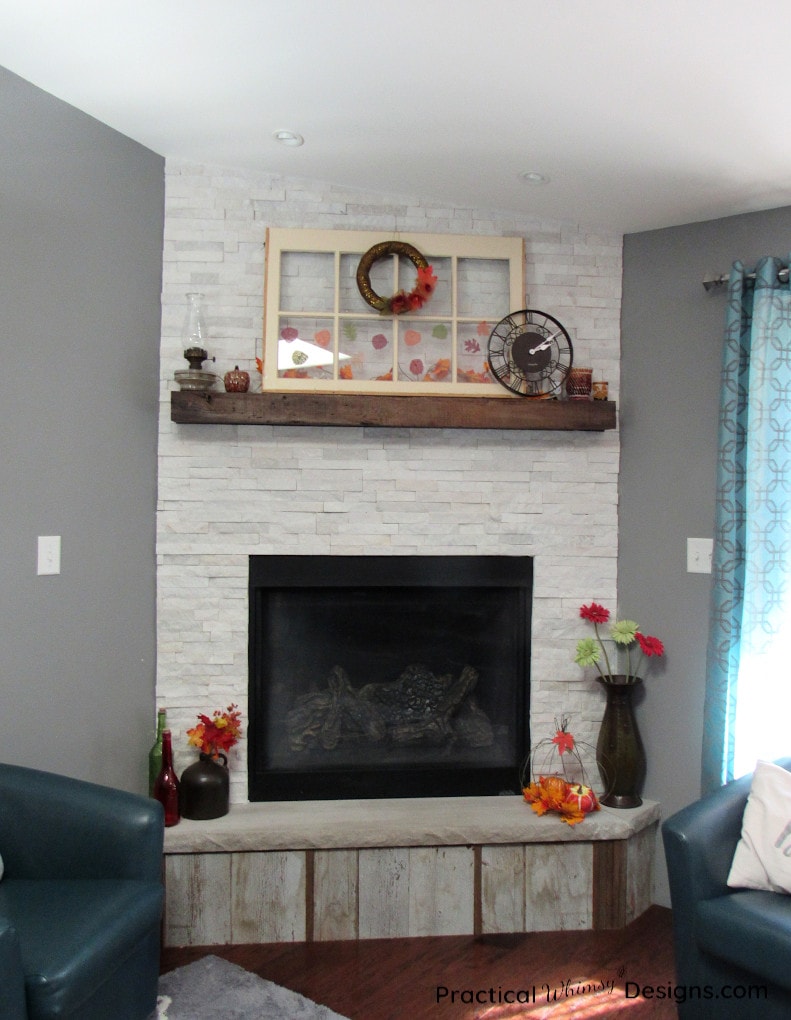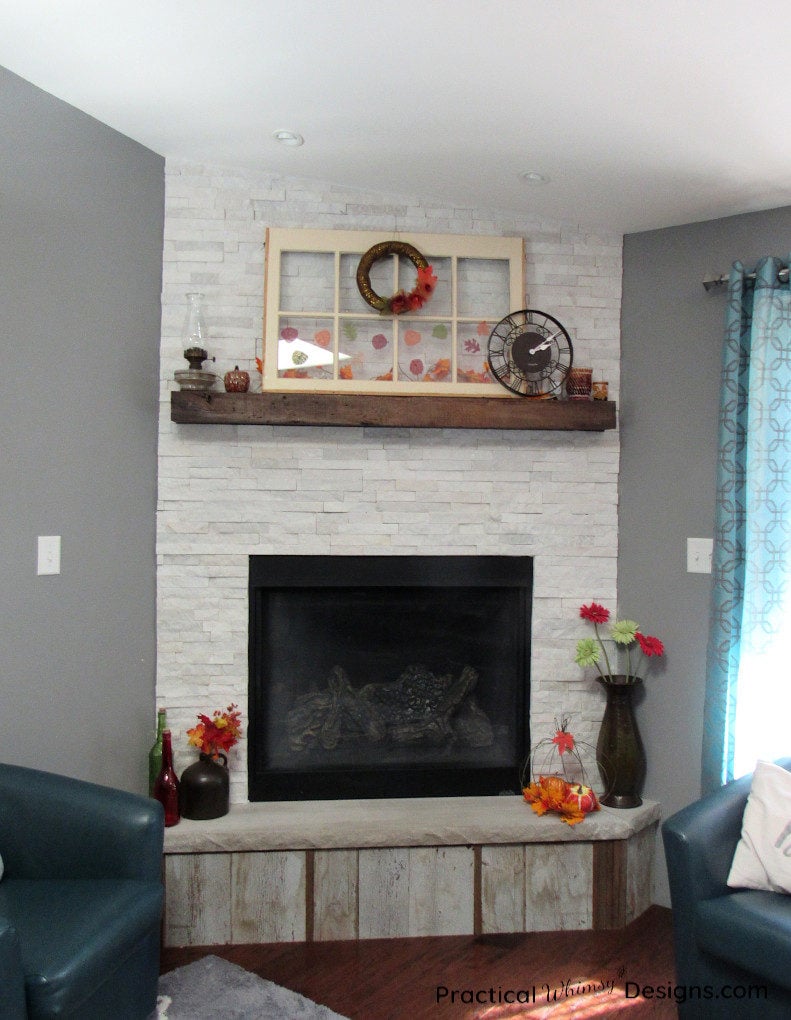 You can also make your own flowers from faux leaves and add them to a simple DIY fall wreath for a festive addition to your decorating.
Add red, orange, brown, white and yellow flowers into your fall centerpieces to create a seasonal flare to your home.
Decorating with Winter Flowers
I love using flowers in my winter and Christmas decorating.
I used white and blue flowers in my winter wonderland themed Christmas decor. One year I added gold flowers to my Christmas tree and red poinsettias to my mantel. I also carried that theme to my Christmas pinecone centerpiece.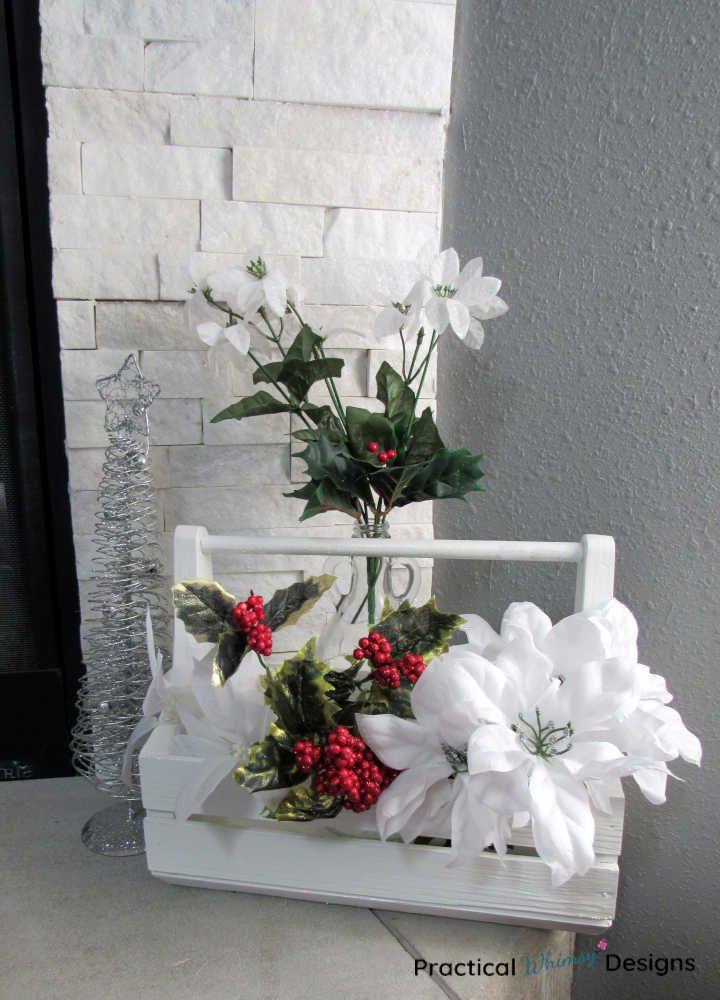 If you love a little greenery and life all year round, use white and blue flowers and faux pine arranged in a basket or vase for the perfect winter flower arrangement.
Decorating with Faux Flowers Year Round
If you are not crazy about changing out your decorations with each season, find a few simple faux arrangements that can be kept out year round.
I use a simple flower arrangement in our bedroom that I always keep on a small table. It adds a little bit of color and life in our room, even though the flowers are fake.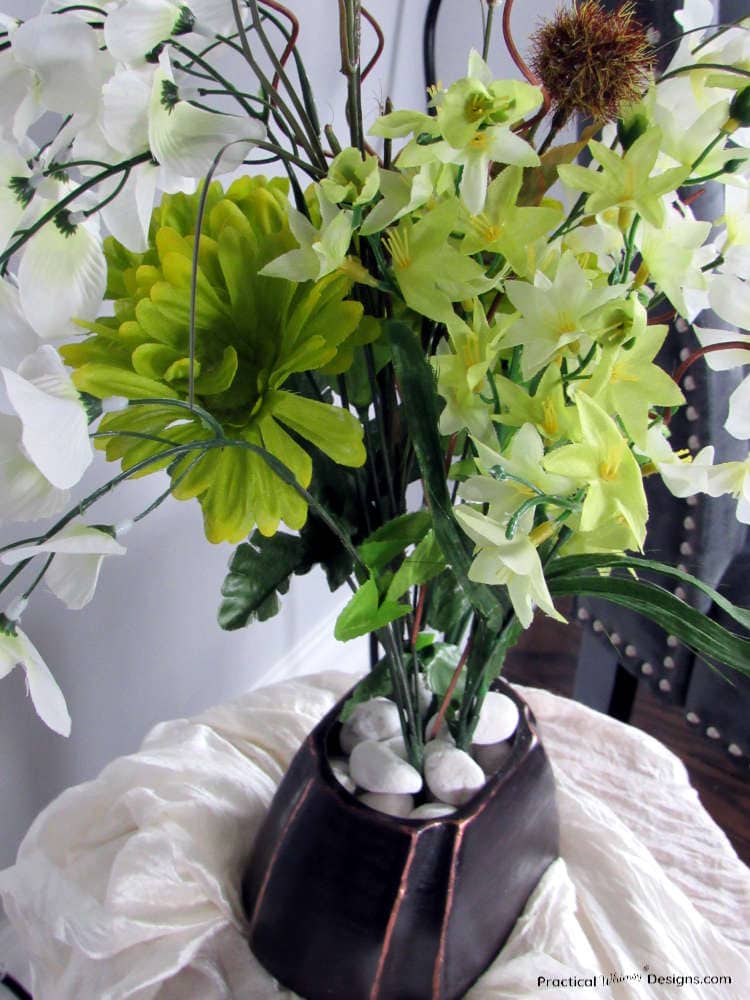 Why Decorate With Artificial Flowers?
There are a lot of reasons to decorate with faux plants and flowers.
Faux Plants are Hassle Free
Faux floral arrangements are hassle free. You don't have to add water, pick up dead leaves, worry about them getting knocked over or spilling, like you do with real plants. There is no need to replace them every few days.
And you can place them on any shelf or corner. You don't have to be concerned about them getting enough light.
They will need to be cleaned occasionally, since they do collect dust like most other surfaces. However, their overall care is minimal compared to fresh plants and flowers.
No Bugs or Death
When it comes to real flower arrangements, there are only so many days that they will last in a vase filled with water. Fresh flowers will always need replacing.
Even indoor plants that you have planted in dirt have the risk of bringing bugs into your home and they can die from lack of care and water.
Silk plants give you the same vibrant color and last a long time without fading.
Artificial Flowers are Cost Effective
Artificial blooms and plants are a one time purchase that will decorate your space, year after year. Purchase a selection of artificial flowers and you can use them in artificial bouquets for different seasons.
Faux Flowers Allow You to Express Your Creativity
Faux flowers allow you to change up your decor each year, especially if you purchase flowers with individual stems. You can mix and match the silk flowers and combine them in new ways so that your decor is always fresh from year to year. Take a look at these wooden caddy decorating ideas to see how easy decor can be changed.
Decorating With Artificial Flowers
Artificial flowers are a great alternative to the real thing. They are easier to take care of, are cheaper to purchase, and can still add that color and greenery into your home decorating. They also provide simple ways for you to express your creativity as you try new combinations of faux florals in your decor.
Want More Great Ideas? You Might Like These..