Out of ideas for Halloween costumes? Make this easy sock monster costume out of socks and a t-shirt. No sewing is required!
I might be a little bit of a dork. I've had this idea in my mind for forever and have been saving socks for this moment in time for years. But this was the year. It was time to make a sock monster costume for Halloween.
You know…. the monster that comes and steals all of the socks from your laundry?
This costume is so easy.
It just requires a lot of …you guessed it… SOCKS!

What you need:
Socks (To be authentic I saved mismatched socks for years, but you can always raid your sock drawer. The socks should not get ruined)
An old t-shirt (I grabbed a large one so it could fit over coats because it's cold here)
A hat
Safety pins
2 Steps for Making This Easy Sock Monster Costume
Step 1: Make the shirt
Lay out your shirt and start pinning the socks on with safety pins. I pinned on the inside of the sock so it was harder to see the safety pins.
Step 2: Make the hat
Pin a few socks on the hat. I chose a couple of socks that were longer and floppy to look like ears.
That's it!
I know…. You were thinking this would be harder, right!?
This costume literally took less than 30 minutes to make.
So incredibly easy and so cute! The socks kind of swished back and forth as my son ran from house to house to get candy, which made the outfit that much cuter.
This costume inspired the most conversation starters too. A lot of people asked my son, what he was and then asked him to return their missing socks. 🙂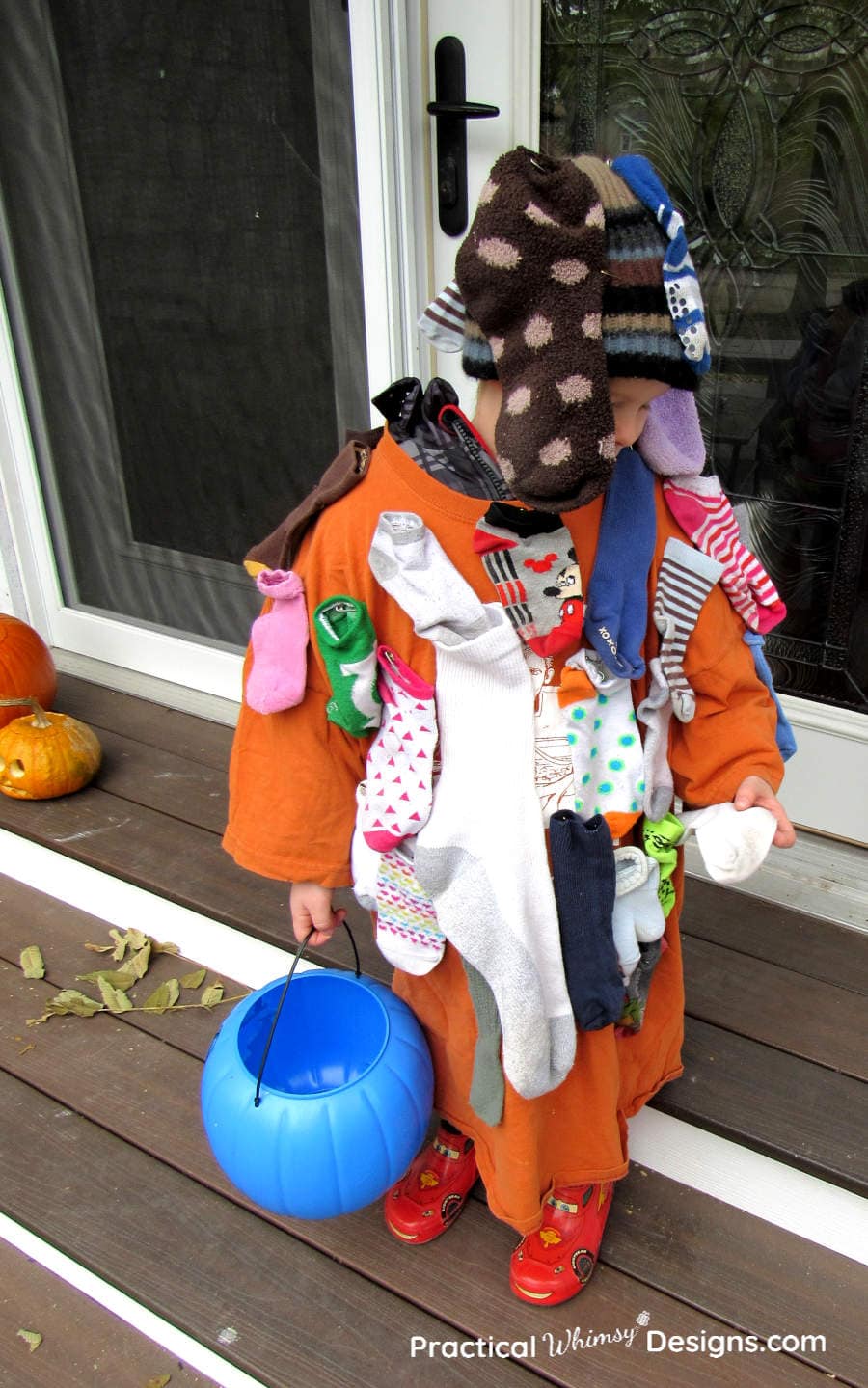 Now that I have inspired you, go… save your socks or raid your sock drawer and make this fun and easy sock monster costume.
Want more fun and easy costume ideas? Check out these posts for an easy Tooth Fairy, Dust Bunny, or One-Eyed, One-Horned, Flying Purple People Eater costume.
What is the easiest costume you have ever DIYed?
Want to remember this? Save the Easy Sock Monster Costume tutorial to your favorite diy board on Pinterest.