Looking for an easy Fall tablescape for Thanksgiving? Try your hand at this velvet pumpkin centerpiece for an elegant fall feel.
Orange pumpkins, fall leaves, bright yellows and reds. The warm earthy colors of fall can be a fun way to decorate your home and it is often the go to for fall and Thanksgiving day home decor.
However, this year I wanted to change up my fall decor from last year and add a few velvet pumpkin decorations to my home. I used these beautiful and elegant pumpkins on my fireplace mantel.
However, I started thinking about different ways this same combination of decor could be used elsewhere in the home for those who don't have a fireplace mantel to decorate and I came up with an easy and beautiful pumpkin centerpiece for your dinning room table.
If you need event decorations and centerpieces for a fall wedding or if you plan to host Thanksgiving dinner and want to use a different color scheme than the typical fall decor, try this easy velvet pumpkin centerpiece.
This post contains some affiliate links for your convenience (which means if you click a link and make a purchase I will earn a small commission at no extra cost to you). Please see my disclaimer page for more information.
Velvet Pumpkin Centerpiece
MATERIALS NEEDED
Note: All of the materials I used for this centerpiece, except for the wreath and the green tablecloth, came from Dollar Tree. If you have one close by, that is a great place to go shopping for decor. However, the only way to buy most of these items online through Dollar Tree is bulk and since you probably don't need 36 pumpkins, I have tried to link to different similar products I found online.
How to Decorate Your Dining Room Table with a Velvet Pumpkin Centerpiece
Follow this quick tutorial to create this elegant fall centerpiece for your home or fall celebration.
Place a white table runner on your dinning room or kitchen table. If you like the look, layer a smaller square table cloth over the top.
Clip small velvet pumpkins onto a green spring wreath. I purchased these small velvet pumpkin clips at the Dollar Tree. You can buy them in bulk online, or pick them up at a local store. Or use these cute mini velvet pumpkins and hot glue small clips like these on the back.
Place a clear goblet upside down in the center of the wreath and set a velvet pumpkin on top. I used a dark blue one.
Set 4 more pumpkins on the table, two on either side of the wreath.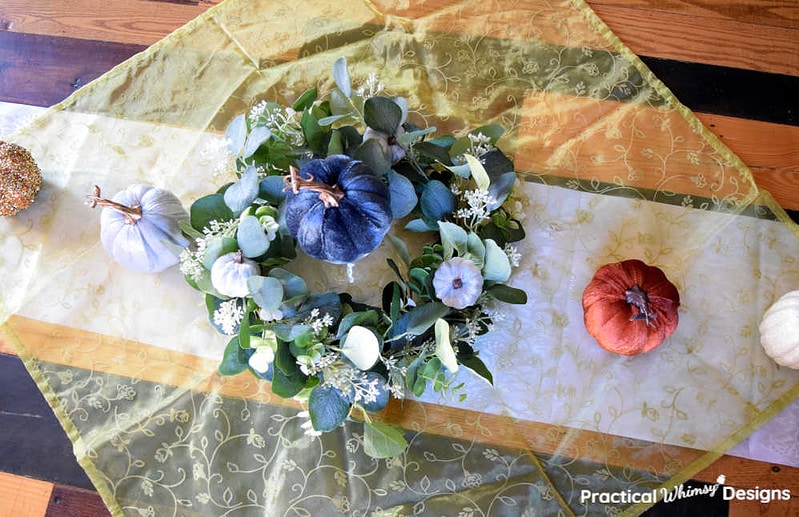 I placed white pumpkins, velvet pumpkins, and a glittery pumpkin to add a touch of glam to the centerpiece.
Or create your own white and copper pumpkins with this easy DIY.
Using more than one type of pumpkin in a variety of shapes and sizes creates more interest to your centerpiece.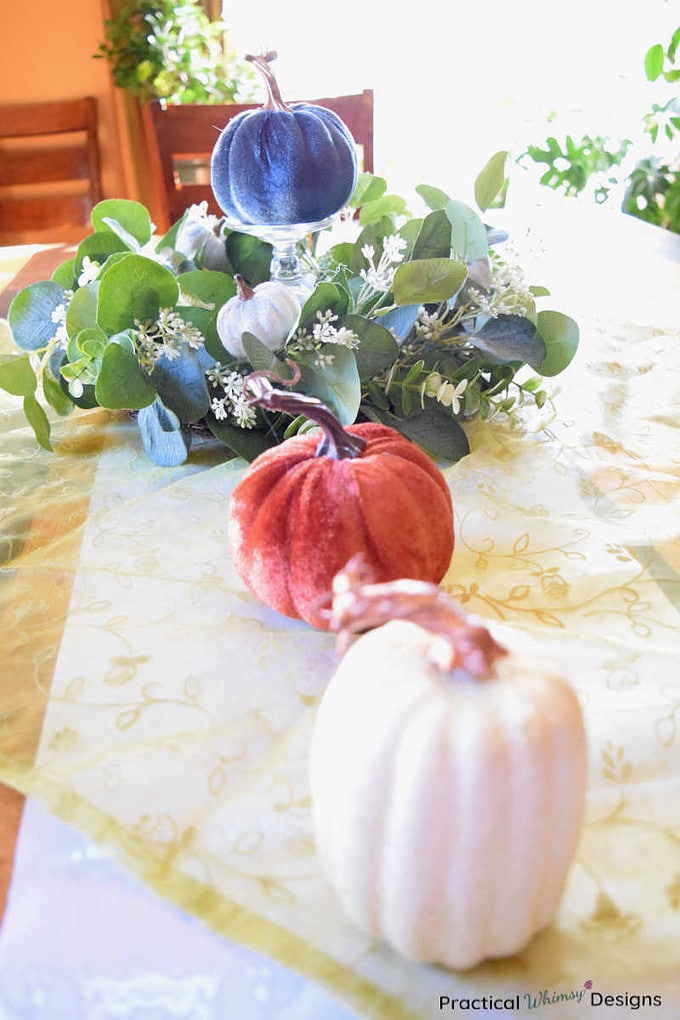 More Ways to Decorate with Velvet Pumpkins
You can use velvet pumpkins in a lot of decor for your home.
This centerpiece is a simple velvet pumpkin display and took only a few minutes to put together.
However, here are a few other ideas for velvet pumpkins.
You can add velvet pumpkins to wreaths.
Use velvet pumpkins with clips and string them onto fall garlands.
Group velvet pumpkins in baskets or on trays and set them on shelves or tables.
Whatever way you use them, velvet pumpkins are sure to add a touch of elegance to your fall decor.
Looking for pumpkins to decorate with? Shop these ideas.

Where to Use Your Velvet Pumpkin Centerpiece
This centerpiece is very versatile. You can use it in your dining room or add it to an entry way or coffee table.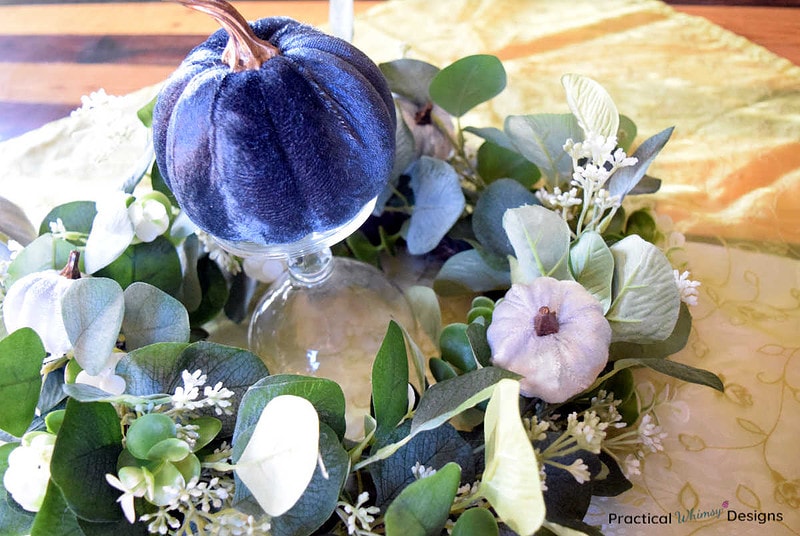 This easy pumpkin display is perfect for a last minute Thanksgiving centerpiece and is elegant enough for a fall wedding.
The soft colors of these pumpkins may not be what one thinks of as the typical color for fall themes, but one of my favorite things is to try new combinations of colors in my decor. This velvet pumpkin centerpiece decoration adds just the right amount of elegance to my table.
If you are still looking for a quick and cost effective display for your fall table, try your hand at this elegant fall centerpiece.
Want More Great Ideas? You Might Like These..